» 05/2022: ⚫ Mountain Retreat with Mitsunaga Kakudo Dai Ajari,
'Marathon monk' of the Tendai sect. *Postponed*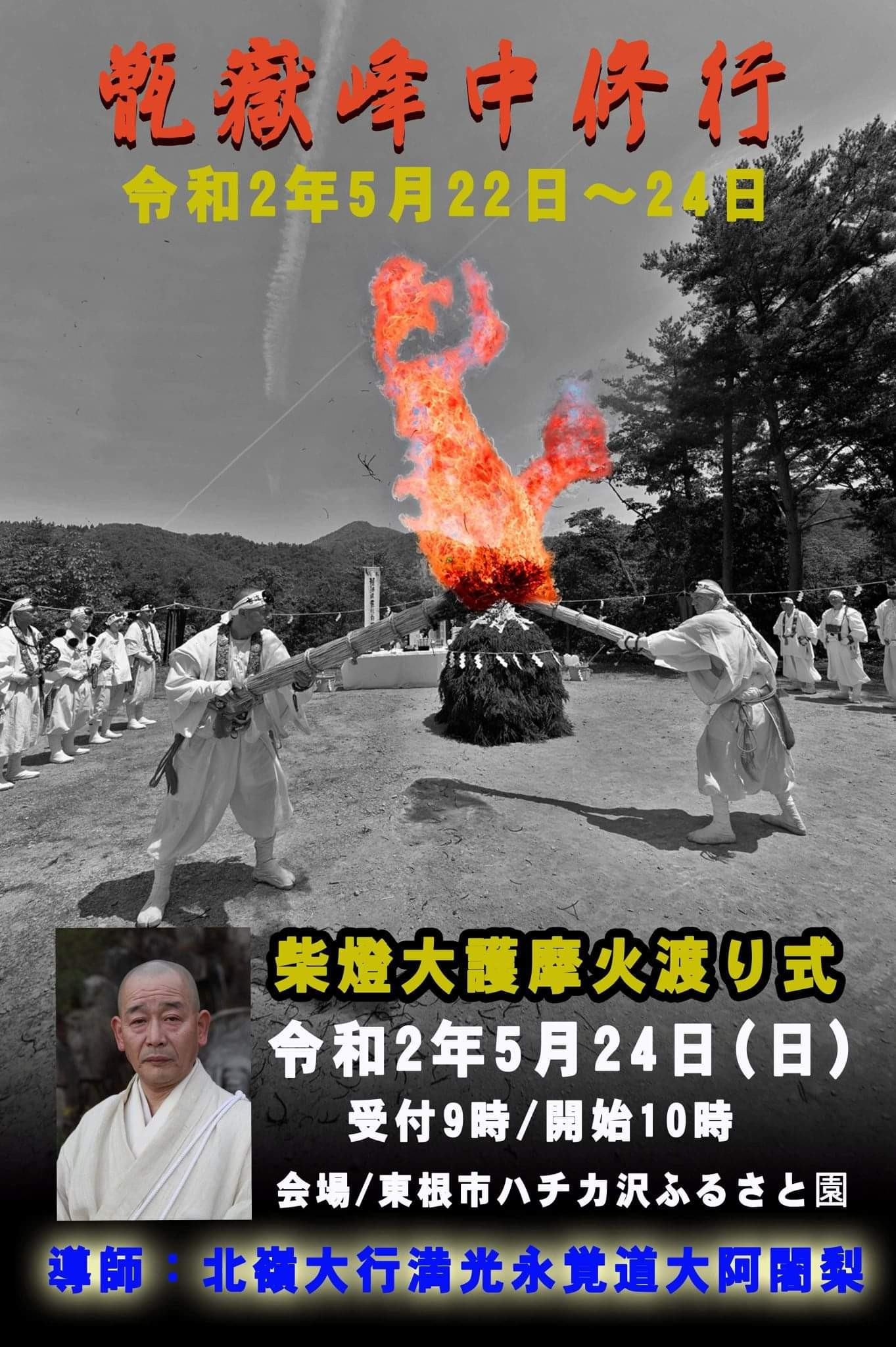 » Activity & Upcoming Events.

Mitsunaga Kakudo Dai-Ajari (光永覚道) was born in Yamagata in 1954. After ordaining at Enryaku-ji temple he began the Sennichi Kaihogyo practice in 1990 (1000 day mountain asceticism of the Tendai school). He also currently serves as advisor of the Koshikidake Shugen sect.
Contact for further details.
For more in Mitsunaga Kakudo see my translation of:
Living in the Practice: An Interview with Mitsunaga Dai-Ajari
⚫ Foundational Material on Shugen Doctrine and Practice:
Introductory material and learning opportunities ongoing.
Please contact for further details
⚫October 28, 2020
Locating Shugendō through Institution, Ritual, and Narrative:
The Case of Mount Togakushi.
Lecture by Caleb Carter


⚫ 04/2020: Online Zoom Lecture from Kannon-ji:
⚫ 02/2020: JP Society Online discussion ft. Rev. Shionuma Ryojun: Overcoming Mountains
⚫ Mt. Koshikidake Nyubu Shugyo Retreat: 2014, 2015, 2016, 2017, 2018, 2019
⚫ 2019: Mt. Omine: Yoshino to Nachi Pilgrimage
⚫ 2015: Mt. Haguro / Dewa-Sanzan Training
⚫ 2014: Japan Shugendo Cultural Studies Association gathering: Kyoto
[採燈大護摩供]
[ Outdoor votive fire festival in Higashine, Yamagata. ]
⚫ 06/2021
Sangha QLD: Interventions into the Prison system Zoom Session.
⚫ 13/04/2021 Zoom Lecture:
Shugendo and the politics of Indigeneity in Aoteroa
⚫ 24/11/2020 Zoom Lecture:
Divining the Future and Averting Misfortune:
The Case of Shugendō
Speaker: George Klonos (East Asian Religions; IKGF Visiting Fellow) 24 November 2020, 6:15 pm–7:45 pm
⚫ 18/11/2020:
Defining Shugendō: Critical Studies on Japanese Mountain Religion.
In conversation with academics Andrea Castiglioni, Fabio Rambelli, Carina Roth,Kawasaki Tsuyoshi, Max Moerman, and Caleb Carter Register here.